DVAM | KAVA Talks 6th Annual In Heels 2 Heal Domestic Violence 1 Mile Walk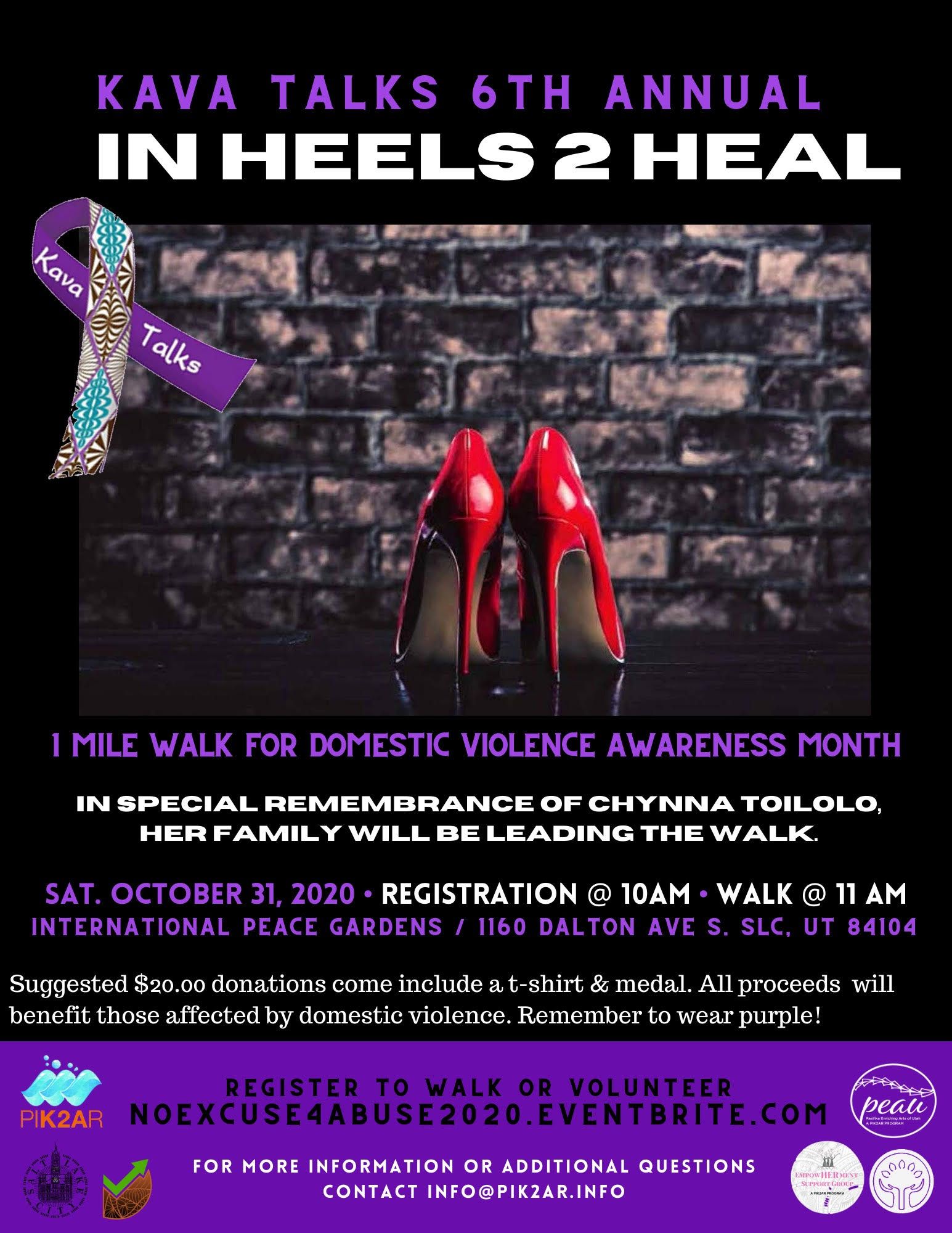 KAVA Talks (Knowledge Against Violence Always) encourages all Pacific Island men and male allies to stand with all victims, especially Pacific Island women and children, to raise awareness and provide pathways to the necessary resources for healing and support for all.
Men, bring or borrow your favorite high heels and walk one mile through the International Peace Gardens alongside the Jordan River, across 900 W, then back to the University Neighborhood Partners house.
Join PIK2AR's Empowered Living program, KAVA Talks, Rape Recovery Center, the Attorney General's Office, and many other organizations for a collective response to a very serious public health problem.
The intent of the event is to raise awareness and provide resources to victims and survivors of domestic viiolence.
Registration starts at 10 am, followed at 10:30 am with the "In Heels Strut Safety" workshop. The walk will commence at 11:00 am with a ceremony when everyone crosses the finish line.
This year's walk will be in special remembrance and honor of Lopine "Chynna" Toilolo, whose life was taken this May by an act of domestic violence—Chynna's family will share and leading this year's walk.
Wear purple to show support and bring posters of survivors and of loved ones whose lives were lost due to domestic or intimate partner violence.
You can walk alone or as a group to represent your company, organization, family, and/or friends.
Awards will be presented:
Tower Award for the Highest Heels, Stride Award for the best stride, Hot Stepper for the fastest walker, and the Mr. Aloha Award.
Get registered to walk: noexcuse4abuse2020.eventbrite.com
Suggested donation is $20, which includes a T-shirt, a medal, and free Taste of SLC tastings.
You don't have to wear high heels to participate.
Anyone and everyone affected by this ongoing issue is invited to participate, take a stand as a community, let survivors know there are places to receive help, and honor our loved ones and community members who have lost their lives to domestic or intimate partner violence.
For information about sponsorship, volunteering, and tabling opportunities, or any other questions pertaining to the walk, contact PIK2AR Director Susi Feltch-Malohifo'ou:
susi@pik2ar.org
801-793-4639