Lethality Assessment Program (LAP)
The Lethality Assessment Program (LAP) is a tool designed to reduce risks and save lives. Modeled after a similar program in Maryland, the LAP involves an assessment by law enforcement to determine risks and, if risks are identified, collaboration with community-based victim service providers. Working together, law enforcement officials and victim service providers are better able to support victims with a variety of processes to include, but not limited to, counseling, housing, medical, financial, legal and other needs.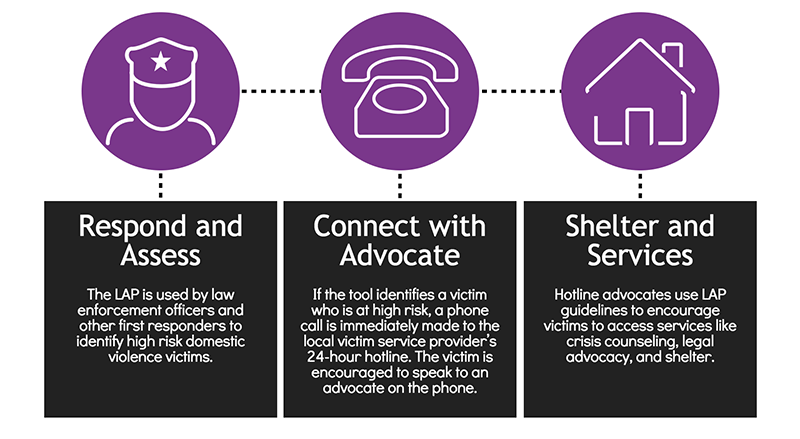 LAP Partners
By order of region, the following agencies have a Memorandum Of Understanding (MOU) with Utah Domestic Violence Coalition, in accordance with the Maryland model, and are implementing the Lethality Assessment Program (LAP):
Mountainlands

Center for Women and Children in Crisis
Provo Police Department
Spanish Fork Police Department
Pleasant Grove Police Department

Northern Region

CAPSA
Smithfield Police Department
Rich County Sheriff's Office
Utah State University Police Department
Cache County Sheriff
Logan City Police Department
North Park Police Department
Preston Police Department

New Hope Crisis Center
Brigham City Police Department
Tremonton Police Department
Garland City Police Department
Box Elder County Sheriff's Office

Northern Wasatch Front

Safe Harbor
Kaysville Police Department
Layton City Police Department
Farmington Police Department
Clearfield Police Department
Centerville Police Department
Syracuse Police Department
Sunset Police Department
West Bountiful Police Department
Bountiful City Police Department
North Salt Lake Police Department
Woods Cross Police Department
Clinton Police Department

YCC Family Crisis Center
Harrisville Police Department
North Ogden Police Department
Ogden City Police Department
Riverdale City Police Department
Roy City Police Department

Southern Utah

Canyon Creek
Cedar City Police Department
Enoch Police Department
Parowan Police Department
Iron County Sherriff

Dove Center
St. George Police Department
Cherish Families

Seek Haven
Blanding Police Department
Moab City Police Department
Moab Valley Multicultural Center
Monticello Police Department
San Juan County

Summit County

Peace House
Heber City Police Department
Park City Police Department
Summit County Sheriff

Tooele County

Pathways
Grantsville Police Department

Wasatch Front

South Valley Services
Draper Police Department
South Jordan Police Department
West Jordan Department
West Valley City Department
International Rescue Committee
Journey of Hope
Mexican Consulate
Roadhome- Family shelter
Utah Community Action
Volunteers of America
How to Become a LAP Partner
Becoming a partner is easy. Below are a few simple steps:
Identify your local victim service provider or law enforcement agency
Establish or strengthen your relationship
Fill out and submit the LAP application with your respective victim service provider or law enforcement agency
A notification will be provided once the application is received - it will be reviewed within two weeks
Once approved, the law enforcement agency and victim service provided will be added to the list of agencies ready for training
A meeting between Utah Domestic Violence Coalition (UDVC), law enforcement and the victim service provider. Meeting topics include:

Training and implementation plans
Policy considerations for the law enforcement agency
Data collection
Next steps

Additional meetings may be necessary prior to the Training of Trainers session
Attend the Training of Trainers session delivered by our statewide expert LAP trainers
Ensure all of your employees have trained in the LAP prior to the implementation date
LAP Data Requirements
Law enforcement and victim service providers must submit data on a monthly basis to Utah Domestic Violence Coalition. The data will be used for state reporting and as evidence to strengthen the local efforts to prevent domestic violence homicide(s).
More Info/Training Request
Contact our prevention coordinator, Claire Mosby, 314-471-5304.