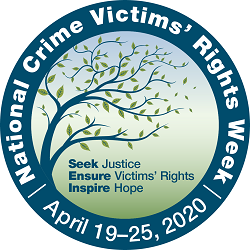 Seek Justice | Ensure Victims' Rights | Inspire Hope
Every year, millions of Americans are affected by crime. Many will need ongoing care and resources. April 19–25 is National Crime Victims' Rights Week, a time to celebrate the progress achieved, raise awareness of victims' rights and services, and stand with our families, neighbors, friends, and colleagues whose lives have been forever altered by crime. Show victims that they are not alone. Reach out, and speak up. When you give victims a voice, you give them hope.
Call us, 24/7, at 1-800-897-LINK (5465) to learn how you or someone you know can get the help they need. All calls are free and confidential. 
Buscar justicia | Asegurar los derechos de las victimas | Inspirar esperanza
Cada año, millones de estadounidenses se ven afectados por el crimen. Muchos necesitarán atención y recursos
de manera continuada. Del 19 al 25 de abril es la Semana Nacional de los Derechos de las Víctimas del Crimen, un momento para celebrar el progreso logrado, concientizar sobre los derechos de las víctimas y servicios disponibles, y apoyar a nuestras familias, vecinos, amigos y colegas cuyas vidas han sido alteradas para siempre por el crimen. Demuestre a las víctimas que no están solas. Comuníquese con ellas y exprese su opinión. Cuando se les da voz a las víctimas, se les da esperanza.
Llame nosotros, 24/7, al 1-800-897-LINK (5465)  para saber cómo usted o alguien que conoce puede obtener la ayuda que necesita. Cada llamada es gratis y confidencial.